The Ultimate Coffee Table Style Guide
How To Find The Perfect Coffee Table
While sofas and side chairs tend to get most of the attention when designing a living room, your coffee table is a key piece that ties it all together! Coffee tables need to be functional, stylish and work for your lifestyle. Whether a place to create a stylish vignette of decor, flowers and candles, to host your cheese and charcuterie for wine nights, or to sit around while playing family board games. Your coffee table needs to work for you. Even if your style tends to be more classical when selecting your sofa and chairs, a coffee table is an opportunity to infuse some edgy style and mix in other material elements such as marble, metal and glass.
Top AD 100 designer Penny Dessins advises "If your seating is conservative and classic, why not look for a coffee table that makes a statement, almost as an art form or sculpture. If your sofas are unusual pick a simple coffee table. Always pick the shape the coordinates with the front edge of your sofa." So if your sofa is curved, go with a curved shaped coffee table for example.
"Look for a coffee table that makes a statement, almost as an art form or sculpture."
While picking out your coffee table may seem like the easiest part of the design process, finding the right size, height and style to suit your living room may not be so simple. Here are our tips on finding the right piece to elevate your living room. "Scale and proportion come first! A general comfortable distance from the coffee table edge to the front of the sofa seat is approximately 16-18" - more than that and you can not comfortably reach a cocktail, less than that and feel the 'squeeze'." Shares celebrated interior designer Alison Rose.

Alison goes on to share some wonderful throught about the negative spaces your tables may create. "Look at the negative space around the table…. Between the adjacent seating, chairs and tables. Think about how the shapes come together and play off of one another. It's all about creating balance and interest. A round or oval cocktail table in the middle of a straight sofa will leave you with 'crescent moon' negative spaces, verses a square or rectilinear table that will create linear open floor areas."
"Scale & proportion come first! Think about how the shapes come together and play off of one another."
And while we can always fall back onto designer advice and measurement rules, Swiss based furniture designer Vincent Mazenauer of KASADAMO says "It all depends on the design, the conception and the materials. Pair elegant materials with elegant materials, such as bouclé cream upholstery with a gold or brass glass coffee table. Or pair earthy materials with earthy materials. Such as pairing a linen or leather sofa with a wood, travertine or marble coffee table."
"Pair elegant materials with elegant materials ... Pair earthy materials with earthy materials."
Find The Perfect Coffee Table For Your Living Room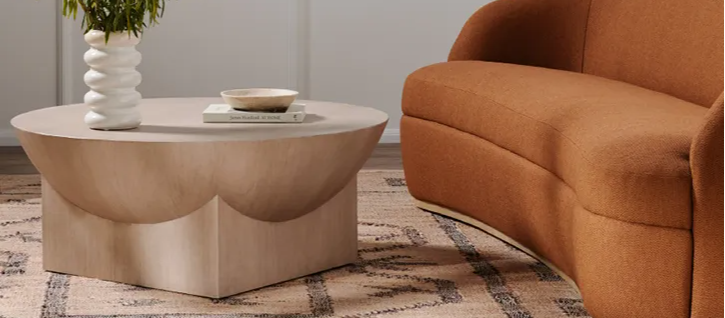 Round coffee tables can work for almost any setting, especially when space maybe tight. A round coffee table is great for kids and dogs to not have sharp edges as well as allow a good flow of the space. And of course not taking up too much valuable rug space if playing with kids and dogs is on the menu. We love to use round coffee tables when you want a more formal setting as well as they feel polished and chic with a smooth flow to the room.
BONUS TIP: Extra tight on space? Choosing a smaller round coffee table or bunching coffee tables is great so you can play with placement depending on the use. Chooising a lucite or glass coffee table is also great to keep it feeling visually light!
---

Oval coffee tables look sleek, chic and so elegant! They're also key to not having any sharp corners if you have little ones running a round. When space is limited or you have a curved sofa, oval coffee tables are great to keep the flow open and give you ample walking space. Oval or oblong coffee tables make a room feel refined and a bit more polished. Midcentury designed coffee tables tend to feature a lot of ovals in wood and marble with glass tops.
BONUS TIP: We suggest suggest leaving 12-18" of space between your coffee table and sofa while leaving 30"+ between your coffee table and other larger piecs of furniture like TV console or other occasional chairs.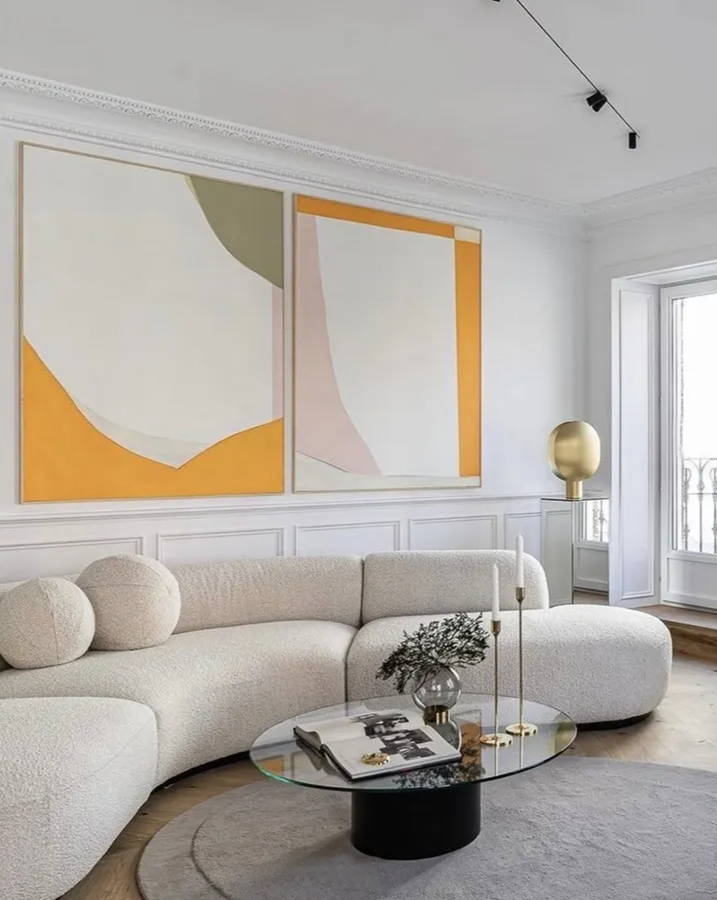 ---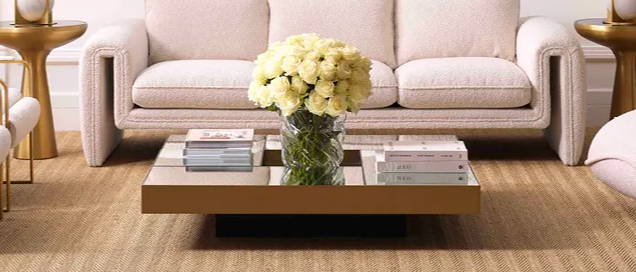 A square coffee table can make a statement and is ideal when designing a larger room or when you have a sectional or mirrored floor plan. The luxury of space it provides you to play with coffee table decor such as coffee table books, decor, candles & board games is priceless to make it a stylish and functional piece.
BONUS TIP: A great tip is to use a material that compliments the visual weight of the room. If your sofa has dainty legs, use a solid wood or marble coffee table with a heavy base. If your sofa is a platform base, use a glass coffee table with delicate legs. Visual balance is always important.
---

RECTANGLULAR COFFEE TABLES
A classic rectanglular coffee table can make a statement as well as be extremely functional for use. When you want to have ample space to display books, decor and candles, yet still not take over too much of the floorspace, a rectangle is ideal. While we suggest going with a square shaped coffee table for larger rooms and sectionals, a rectangle can have the same impact and still let the room breathe and give you walking space.
BONUS TIP: Need some extra storage? Getting a coffee table with interior storage or a shelf underneath it is great to use for display while keeping the top clear to use for drinks, flower and other items.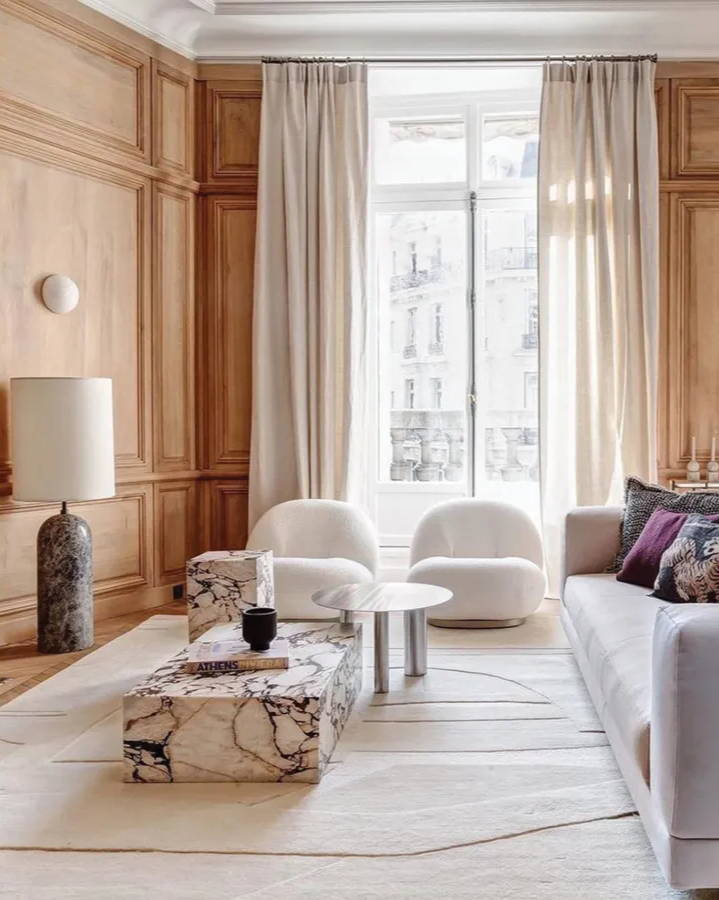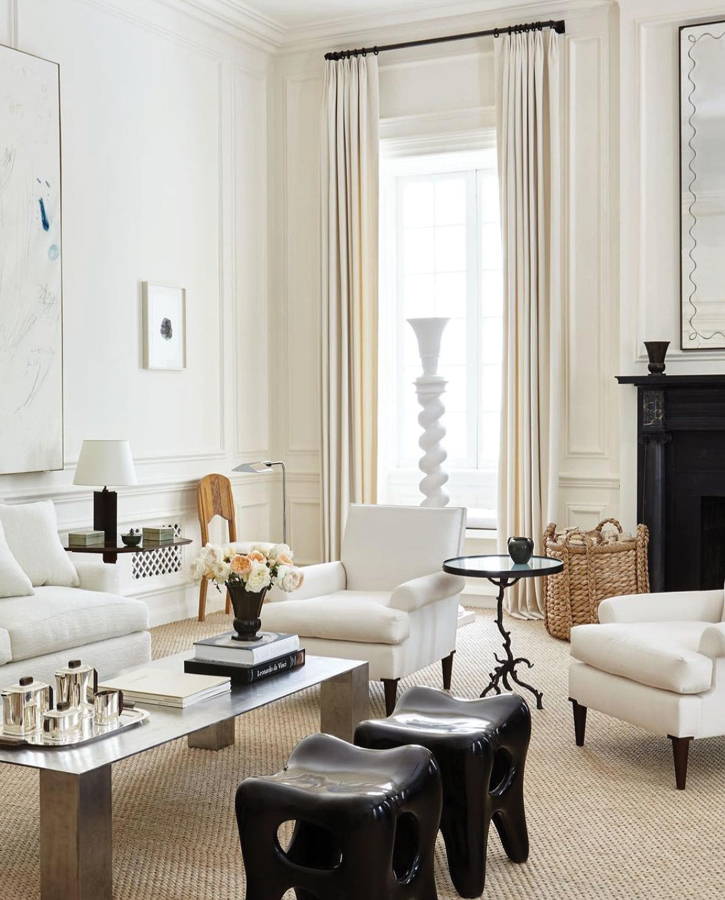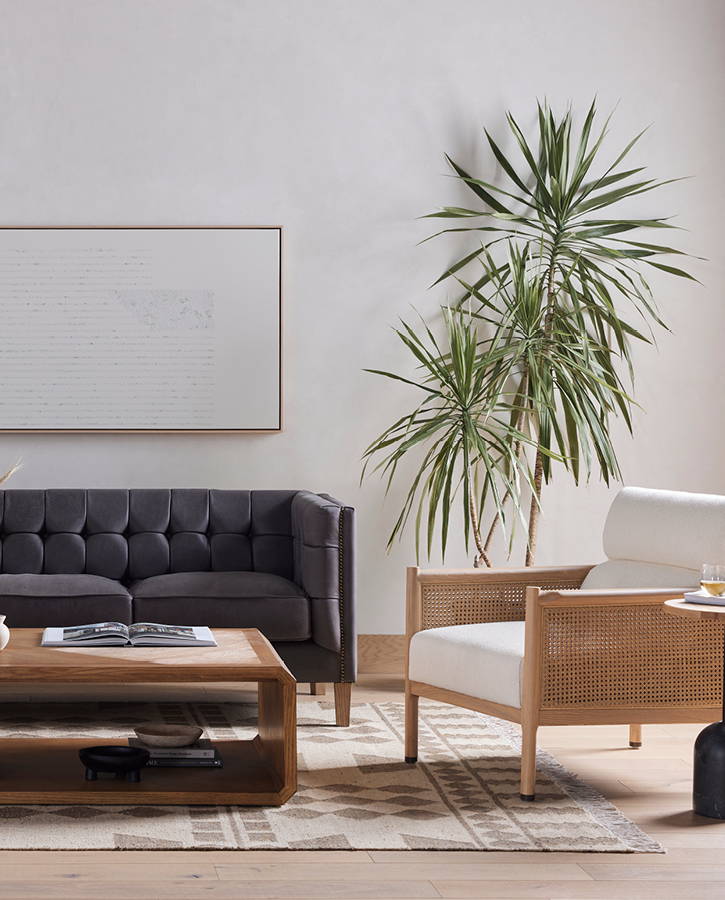 Rectangular Coffee Tables
---

IRREGULAR SHAPED & BUNCHING COFFEE TABLES
For larger rooms, sectional sofas and mirrored floor plans including two sofas facing eachother we love using irregular shaped coffee tables or bunching coffee tables to take advantage of the space you have to play with. Midcentury coffee tables tend to use irregular shapes such as the class Noguchi coffee table. Whether you add 3, 5 or 7 pieces, stick to odd numbers for a balanced look when using oval or round shaped bunching tables whereas when using rectangle or square shaped bunching tables you can stick to even numbers. The best part of this is the flexibility of being able to move them around easy for events, entertaining and your different uses such as board game night or setting out nibbles.
Irregular Shaped & Bunching Coffee Tables
---